Since ancient times, people all over the world has used drums for several purposes.
Why?
Because the drum connects us to ourself, to feelings of love, to thoughts of safety, protection and coziness.
Why?
Because the first thing we hear when our spirits enter this human body, that first thing is bum-bummm, bum-bummm, bum-bummm, the heartbeat of our mother.
This beat is what we never forget throughout our whole lives and we can nearly immediately reconnect to these safe and cozy times and reconnect to our inner strength when we hear the monotone beat of a drum. Some also say that the drum represents the heartbeat of mother earth.
Drums have been important for me all my life and my dad truly regretted when he made me a drum from an old large tin can. He should hear me beating it for hours. That close connection to the beat of drums continued through my whole life. So one day I woke up at 6 in the morning and felt that It's the right day to build my own drum. And I did. I saw what I did and I liked it. Drum building became much more for me. Drum building is meditation, prayer, caretaking, attentiveness, and much much more.
My drum making is inspired by native Americans, especially from Blackfoot people in Alberta, Canada and I am deeply thankful for each of you, who shared your knowledge and wisdom with me.
Each of my drums is made with all my love and passion as I guide these wonderful creations into life. I very much like to make individual drums that are custom made for a specific person. This is why I prefer to talk to a person who wants a drum before I start making it.
Creating a drum is a longer path for me and I hereby share with you a little bit of my personal way of building a drums. As I say, this is my own individual way to make a drum. There are many different ways to do it and all of them are right. In my drum building seminars, I encourage the people to take my way as an inspiration but to follow their own intuition. That way, they will create the most powerful drum for themselves.
I believe that if you take, you also need to give. So I start by giving an offering and prayers to the tree that has given its life to provide the wood and also to the specific animal that gave it's live to provide the hide for the drum, the water which made the hide soft and the air that is drying the hide. I also give thanks to our creator that he blessed me with a healthy body and these two hands that are able to do this and that he gave me the ability to create these wonderful drums.
After I have chosen the wood, I smudge the wood and give thanks to the tree who gave his life for this drum to come, as well as a prayer for all the trees that they stay healthy, protected and handled with respect.
I build the drum frame by cutting the segments in a special way and mount them together to make the base. After that I let the frame rest for some days.
Then the frame will in a long process be sanded to a perfect circle, so no edges of the segments are visible anymore. This is a part that very much separates my drums from others. The upper and lower edge will then be rounded. Then the drum gets another rest.
When the time is right (and only then) I choose the hide for that drum and cut a piece in the size I need. I smudge that piece of hide and give thanks to the specific animal who gave it's life for this drum and also here I sent a prayer for all the animals that they might stay healthy, protected and cared for with respect.
While I put the hide on the frame, I let myself float and being guided by my intuition which means, that a lot of times the drum looks different from other drums that I made. It needs to feel right in that moment and right in connection to the specific person who will receive it first. During the drying process of several days I frequently work on the hide and the tuning.
It fills my heart with joy when I do the first beats on each single drum that I bring into life through my hands and my heart. Once all this is finished I initiate the drum in a special ceremony so that each new one unfolds it's power and is welcome on this earth. As this is a very private and individual process, I will not write about that ceremony. In my drum building seminars I might give some hints to the people and let them find their own individual way.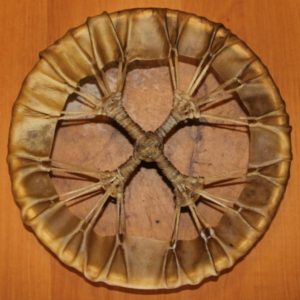 I created more drums and I spent a lot of time trying things, I failed, I was successful and my passion for drum building got even more, the more drums I made. The largest drum I made so far was a pow-wow drum of 70 centimeters diameter. It still gives me chills, when we sit around that drum and start beating, all one beat, all connected through the beat.
Pretty early in that process of learning, I found my own way to make drums and was developing it to what is perfection to me. I know very well that perfection is also in the eye of the beholder, so somebody else might think completely different about my drums. And that's perfectly fine, because we are all individuals with our own individual ways, thoughts and preferences.
So if you like my drums and if you feel like getting a custom made drum, please contact me through the Contact page. I hope to talk to you soon.